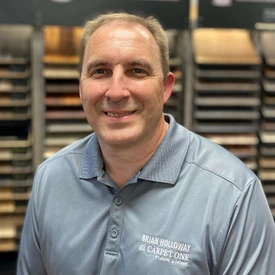 Neil Holloway, Owner & President
A native of Dothan, Alabama, Neil has worked in the flooring industry for over 30 years, initially working at Brian-Holloway Carpet One as warehouse associate under his father, Morris Holloway. After college, he learned further lessons under his father's tutorage. A graduate of Carpet One University in Atlanta, GA, Neil maintained a top sales position for over a decade before taking ownership of the family business. Neil and his wife, Tiffany, the store's in house marketing and social media expert, have one son, Landon. When they're not working hard, the family enjoys traveling- especially on Carpet One Floor & Home member trips!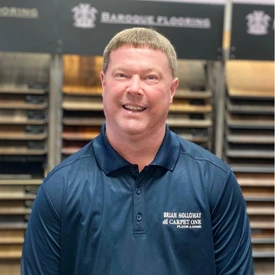 David, General Manager
David's career with Brian-Holloway Carpet One began over 30 years ago, when he was a high school student assisting with loading our trucks after school. After college, David's focus shifted over to our operations side, and he's been our General Manager for more than 20 years. Among his many duties are overseeing our merchandizing and managing our inventory to make sure that our customers and crews have everything they need.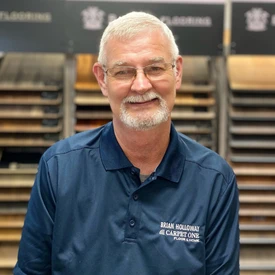 Jimmy, Installation Manager
A 30-year veteran of Brian-Holloway Carpet One, Jimmy continues to keep all of our flooring installations in line, ensuring all are completed in a timely manner. The first person to walk through our doors each morning, Jimmy can be counted on to dispatch all of our flooring crews. His role is essential to meeting client requests and exceeding expectations.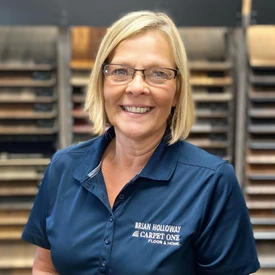 Janet, Sales Associate
A member of the Brian-Holloway Carpet One family since 2016, Janet boasts nearly three decades of industry experience. She loves helping each client make their house a home, with her motto being "a happy floor is a happy customer."
Sandy Beasley, Customer Service - Showroom
"I love the people I work with and our customers." Sandy came to us in 2019 after working security at Ft. Rucker for fifteen years. She is the friendly face you see when you walk in the door! She is happy to point you in the right direction and help you browse the showroom while seeking to understand your flooring needs.